There was a time when homebuilders didn't even think about needing kits. All they needed were good plans and a place to work and they were set. The Emeraude is typical of the era: classy, complicated and conveniently useful. There were a surprisingly large number built and you don't have to look to close to realize that this is the forerunning of the CAP 10 series of acro birds.

The two lead characters in this little episode, Jim Moser and Al Crichton, have both left us, which I think about almost daily. Jim was literally my brother and I miss him more than I can say. I owe him so much and we did so many great and goofy things throughout the years that he is a central character in some of the more memorable chapters of my life.
When Claude Piel first laid down lines for his CP.30 in 1953, it is doubtful he had the likes of Al Crichton of Jim Moser in mind. Never mind that both of them are well over 6 ft 3in (Moser's 6 ft 5in). Piel was designing the airplane for the average French sport pilot and Crichton, who did most of the building, is about as removed from the image of a French sport pilot as aviators normally get. Piel could not have imagined Crichton, a New York City burglary detective with 25 years on the force, would be the builder of not one, but two of his aircraft. However, in the 36 years since Piel began to offer plans to the homebuilt market, the CP.30 series Emeraude (so named because the prototype was green) undoubtedly has been built by every possible type of personality and personage.
Crichton's background as a New York cop certainly leads to an improbable bunch of statistics for a homebuilder, especially since building airplanes is not a normal Manhattan hobby. Crichton was living a second life at his home in Valley Stream on Long Island—actually several lives. He would have to live several lives just to complete the number of airplanes he has built, including an Emeraude, a Thorp T-18, and a Midget Mustang II. When these stats are added to the ex-cop stats, the picture begins to make more sense—as viewed from a homebuilding perspective.
In the beginning Claude Piel also would have had a difficult time imagining that 150 horse engines would be commonplace in his bird, since the original had 65 hp and slowly progressed through 90 horsepower. Also, were he to stand on the ramp at St. Augustine's Airport while Crichton is polishing the bright red paint on this newly finished machines, his eyes would probably bug out, when he got to the interior. Here Piel was, trying hard to design the perfect basic airplane for the sport pilot who simply wanted to wander around over France's beautiful landscape and then the Moser/Crichton team came along with a variation on his airplane that is a long way from being basic. In fact, it has features more befitting a high-buck Chris Craft or Mercedes, including a leather interior and onboard air conditioning. That's right! Air conditioning! This may be yet another St. Augustine/Aerosport first.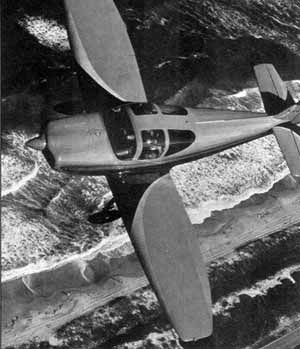 From this angle the later CAP 10 lines can be seen
Crichton moved to St. Augustine in 1983 after spending most of his life up in Long Island, which included soloing a Cub in 1937 at the age of 18 and subsequently getting his fingers into every major airplane project to happen out on Long Island. Before going into the Army, he was an accomplished machinist and woodworker — talents which continued to improve in quality and demand, certainly making him one of the most popular cops on Long Island (at least among the homebuilders).
At one point, after moving to St. Augustine, Big Al got together with Jim Moser, who is the proprietor of the local FBO, Aerosport. Moser wanted to see what they could come up with to be used in teaching his kids to fly, as well as being an in-house club airplane for the employees of Aerosport. Al had loved his old Emeraude and, knowing of a project for sale in Pennsylvania, worked with Moser to get it on a truck headed in their direction. Before any cash changed hands, Al traveled north to cast a critical eye on the airplane before saying "go for it!"

The project they bought included the basic internal structure for both the fuselage and the wing, something which made Crichton very happy. "That spar can be a real bitch and the wing is very time-consuming. The spar has both twist and dihedral, but the original builder, Arthur Teel, did an excellent job, which saved us a tremendous number of headaches"
The Emeraude's wing is one long piece measuring nearly 27 feet tip-to-tip. The spar has laminated spar caps that must be jigged for the right angles in two directions and held there while all the ribs, leading edge skin, and miscellaneous fittings are attached. Once most of the pieces are attached, the wing becomes a huge, delicate slab that requires several men to move i around. It's not that the unit is heavy, it's just big.
Even though Crichton is equally well-known as being a master of both metal and wood, he has had a soft spot for wood in his heart since his days as a cop. Then, he was moonlighting with his own cabinet shop to help feed his mini-herd of kids. In time, the cabinet shop became a free-standing business which is still operated to this day by his kids.
"I probably screwed it up, but my kids are smart enough that they got it all straightened out, and it seems to be doing just fine"