This was done back in 1985 during the heyday of Air Progress magazine. Those were golden years for me personally because if we could find an unusual airplane of any kind, I knew I could do a pirep on it and Air Progress would print it. And I took advantage of that, believe me! Editor Mike O'Leary and I would team up and travel around to airshows either shooting photos together or me flying the subject airplane for the photo shoot and he'd do the shooting, which is what we did on the Trimotor.

This isn't a pirep in the usual sense in that I wasn't PIC on the airplane and didn't actually make the landings, but I did enough of the flying to give a good idea of how the airplane. Besides, it's the closest I'm likely to ever get.

Working pilots and working airplanes have a look about them. Their edges are shop worn, the new look gone—like a pair of five-year-old Levis. They look used and occasionally abused. But they some how seem to fit to the job at hand. On the surface, working pilots and working airplanes look as if they don't have to think about what they are doing because they've done it so often. This was the case when looking across the cockpit at Ed Rusch handling the controls of the Ford Tri-Motor. It was obvious that this team had worked together often.
Isn't this exactly how you'd expect a barnstorming Tri-motor pilot to look?
He was wearing a baseball cap and had a skinny cigar (pronounced "ceegar") clenched in his teeth. His elbow was up on the sill of the open side window with one hand resting lightly on the rotund wooden wheel and the other relaxed in a claw position around the three throttles. We could have been in the cab of a Peterbilt. Or cabover KW. Here was a man and machine used to a bluecollar world. They understood the job at hand and did it with a minimum of muss and fuss. And absolutely no ceremony. Jeans and lightly soiled baseball caps are workin' clothes. And old though she may be, this was a hard-working airplane.

Ed Rusch and Ford 4AT-B N7584 share a common history. Even though the Ford is nearly twice Ed's age, they came up through the same paths, paths which crossed and recrossed. Originally a boat mechanic with a pilot's license, Rusch started making his way with wings in his mid-twenties. "I knew some of the guys over at Island Airways," he replies, with a trace of reticence. "When they needed another pilot, they asked me if I'd like to come to work. I stayed for five years and 4000 hours."

What he doesn't elaborate on is that Island Airways always figured on a minimum of three and usually four landings per hour. The Lake Erie Islands have no bridges for their school buses to the mainland, so Ed and the pilots of Island Airways became aerial school bus drivers. "Things were a lot more relaxed, before the Feds stepped in and regulated things," he said without a trace of resentment showing. He stated the fact. And that was that. The comment means a lot more when he starts telling about the daily routine of hopping around five islands in VFR conditions that were sometimes just barely that.

He explained their navigation in questionable situations, "The longest stretch of water was only about a mile so you'd get right down on the deck and follow shore lines from airport to airport. It wasn't hard. Not, really." Ed's last 600 hours with Island were in the Tri-Motor. Then the airplane came close to losing her life. The fuel manifold through which all fuel flows some how became blocked and another pilot found himself just off the ground with three very silent engines. Trying to turn back, the airplane cartwheeled on contact and was severely damaged, the pilot hurt. None of the passengers were seriously injured, but that was the end of scheduled service for the Ford.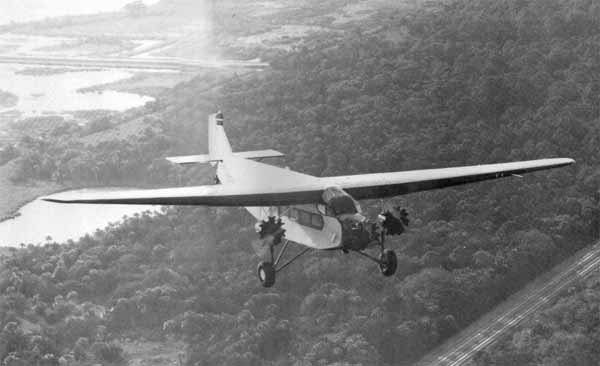 Looks like it ought to be flying the Albany-Pittsburgh run, doesn't it?

ISLAND'S DECISION TO HAVE JOHN ELLIS AND Kal-Aero in Kalamazoo, Michigan, rebuild N7584 was probably based upon as much emotion as logic. After all, even though she was an antique, the cost of rebuilding was more than her face value. But, Island Airways and N7584 went back a long ways and they weren't about to abandon her. N7584 was the first of many, many Tri-Motor Fords to go through Milt Hershberger's hands. When Herschberger founded Island Airways to serve the islands, he needed something that could carry a bunch of passengers and was cheap. In 1935 that airplane was Ford Tri-Motor N7584. Originally sold new for something like $54,000 in 1928, by the mid-thirties 4-ATs could be had all day long for $3000 because the Douglas DC series had rendered them immediately obsolete.

A devotee of the corrugated Ford who dealt extensively in them, Herschberger is reputed to always have had a half a dozen on hand, with three of them working the islands. It isn't known how many he owned over the years, but N7584 was the first and the last.

When Island's last Ford came out of Kal-Aero's shops in 1980, they reserved it for an occasional charter or for flying the airshow circuit. Then, they mothballed it in 1982 until selling it to the present owner Al Chaney of Hebron, Ohio, in 1985. Chaney is not known to be a true antique buff, in fact, he bought the airplane to work it. He figured the current wave of nostalgia would allow him to put the airplane on the airshow circuit and hop passengers at $20 a pop. But, he needed a pilot. Enter Ed Rusch.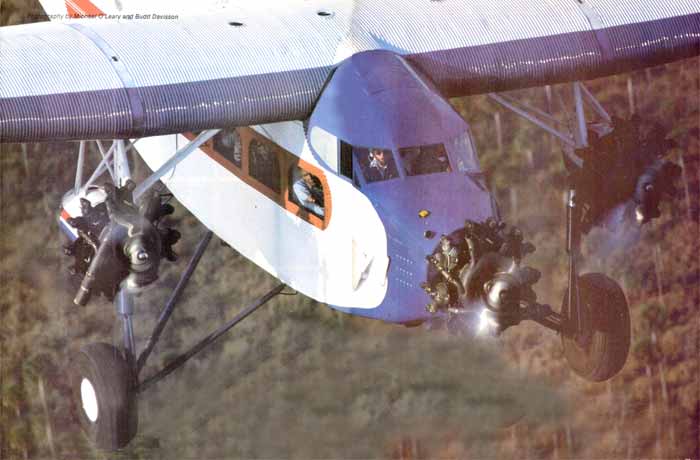 That's me in the right seat gritting my teeth while trying to keep this lumbering behemoth in position for Mike's camera