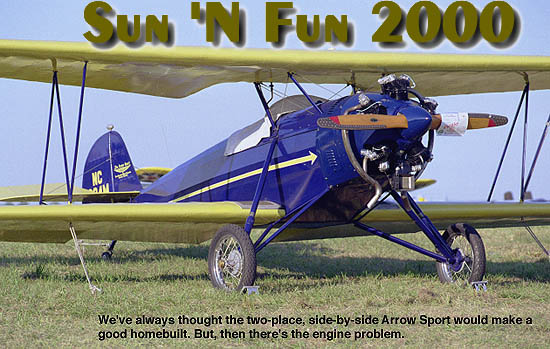 by
Budd Davisson
Exclusively for AirBum.com
---
Sun 'n Fun 2000 Journal
Dear Journal,
We just returned from Sun 'n Fun 2000 and we set some sort of record: we came back with the same skin we left with. This is an absolute first. The Redhead and I discovered SPF 50 sun block. It's about the consistency of library paste and looks as if you let a gallon of white latex paint evaporate until only about a pint was left. Just a little dab'll do you though. First time I used it I put it on like regular lotion and came out looking like Emmet Kelly. All I needed was a big red nose, baggy pants and floppy shoes.
I'm only mentioning this because it was part of the comfort factor which, for once, permeated most of the time we were there. The weather , if you don't count the sky falling on everyone the last two days, was just about right. Florida's famous humidity decided to take a break and a few days were even a little cool. The result was that we could foot-cruise the grounds without feeling as if mildew was growing on parts of our body we'd rather not think about.
The problem with looking back at so many days of walking around looking at airplanes is that it's hard to remember anything specific. Actually, after so much walking, it takes several days for us computer potatoes to be able to remember our own names.
We took a bunch of snap shots, which we'll paste on the next few pages. They'll tell most of the story.
We want to mention a few high lights, just so we don't forget them. Among other things, the Lionheart folks showed up with two of the 450 hp, sorta-Staggerwings that we're certain is the result of letting a D-17G Beech spend too much time in a dark hangar with a good looking, and thoroughly promiscuous, Lancair IV. The fact that two Lionhearts were parked there side by side, left an impression. Many folks thought they would just fade away like so many sport aviation dreams in the past, but they look as if they mean business and will be around for a while.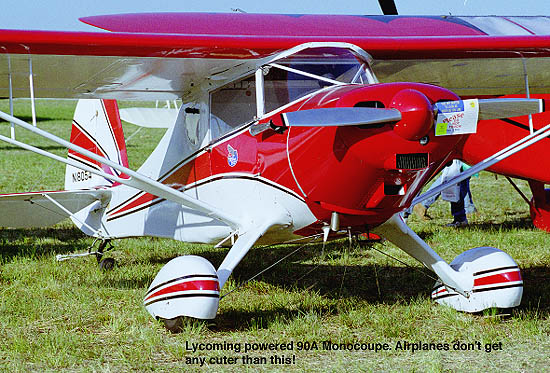 In sort of a ironic twist, the Lionhearts were parked right next to Roy Redman's new Taperwing display. Roy, who is best known as one of the nation's leading restorers, has found himself in a rather strange position as the built of homebuilt kits. But, his kits are accurate reproductions of 1929 WACO Taperwings. He was standing there looking vaguely sun struck muttering something like, "...I just can't believe there are so many people with so much money." I guess he can't keep up with the demand for his finished airplanes. Such a bargain at something like $225,000 turn-key. Hey, Roy, we'll take two. Do you take checks? No, really! We're good for it.
Aviat was around the corner from Redman and the stubby little 110 Monocoupe Special stole the lime light from their Husky and Pitts Specials. Journal, I'm telling you, Stu Horn, owner of Aviat, should forget about selling the Monocoupes and just charge admission for people to look at and fondle them. The crowd couldn't get enough. Incidentally, we'll be putting our pirep on the Monocoupe in to Airbum.com as soon as Plane and Pilot runs our story of it so we can use our photos. If there is such a thing as "cute testosterone", the little 'Coupe has it. It has the aura of a feisty refugee from a Little Rascals movie or something.
I'm told the entire front line of exhibits that faced the airshow line had all sorts of new Mooneys and turbo-prop this and that. I don't know. Marlene and I have no interest in that so we didn't go look. We're into flying, not driving.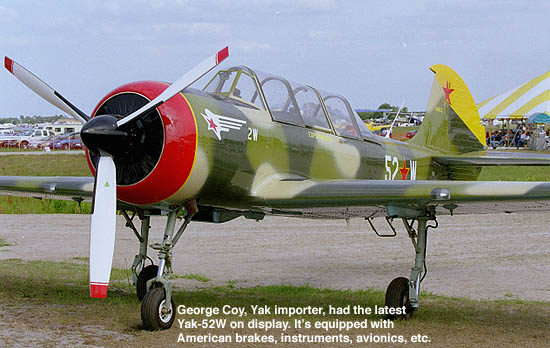 One of the high lights of the airshow was watching (and listening to) the gang from Old Rhinebeck do their thing. Braving some wind that we thought was out of limits for their kites, they put their Camel and Fokker Tri-plane up every afternoon. They'd do their phony dog fight , never getting past the end of the runway. It's really sobering to watch the Camel for instance, it's rotary engine sounding like a Massey-Ferguson with indigestion, bobbing and weaving and finally blipping it's way towards the grass right in front of the crowd. We hope the crowd appreciated what they were watching. If it wasn't for Cole Palen's incredible legacy and the spunk of the folks at Old Rhinebeck (and the vision of the folks at Sun 'n Fun, Inc.) there would be no place to go regularly and hear and see those old engines from the past. Great stuff!
Incidentally, Rhinebeck brought their newest demo airplane over, a replica Spad with a Lycoming hiding under the hood. It didn't sound right, but it sure looked the part and was so reliable, Gene DeMarco, their chief pilot, was talking about flying it back home to New York state. How'd you like to look out of your FBO office and see a Spad taxiing up to the fuel pump? "...ladies and gentlemen, you have just stepped into the Twi-light zone..."
On a sad note, we understand Van's general manager and his son were lost in the crash of their new RV-9 prototype enroute to the show. Early reports indicated it was a weather related accident and had nothing to do with their newest, low-powered design. Our thoughts go out to them.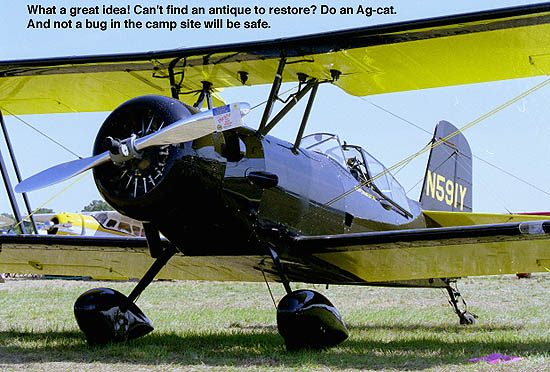 Incidentally, Journal, do you remember Jody Gertler, old Joe Gertler's kid? Joe was the aluminum banging wizard from Long Island who also had a corner on W.W.I and other really rare airplane stuff (remember, he built me a couple of midget race car bodies?). Anyway, Jody has turned out to be the archival king of America. Among other things he some how cornered the entire archive of the Wright brothers, including most of their personal papers. He also has the Curtiss and Martin Archives. 'Don't know how he does it. He's some sort of super sleuth when it comes to that kind of stuff. He showed me a hysterical (and historical) letter in which Don Luscombe is writing Clayton Bruckner (WACO Pres) in 1934 and telling him he is an idiot and a dumb bell for believing some guy's sales pitch. Great windows into history.
Part of Jody's business is supplying museums and historical organizations with stuff, so I guess the Wright archives are for sale. He's said, he really doesn't want to part them out, but who knows?
We also ran into our buddy Mark Frederick at Team Rocket. Those are the folks who build the Rocket II kits. We looked over their newest product and like what we see. He says he's doing well and we hope he does as we really love the lovely 260 hp monster he sells. I'm glad we got the pirep on the airplane into the first issue of Airbum.
We wandered through the exhibit buildings, but, after a while, we couldn't remember where we were and whether we were at Oshkosh or Lakeland. So, we picked up our semi-annual freebie Trade-a-Plane and split.
Anyway, a bunch of pix follow. We'll try to scribble what is what, but sometimes we don't know, so just bear with us.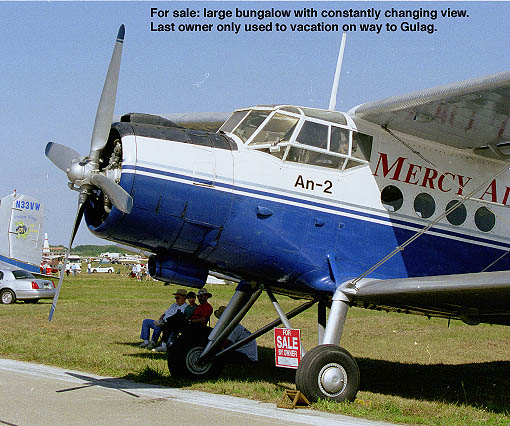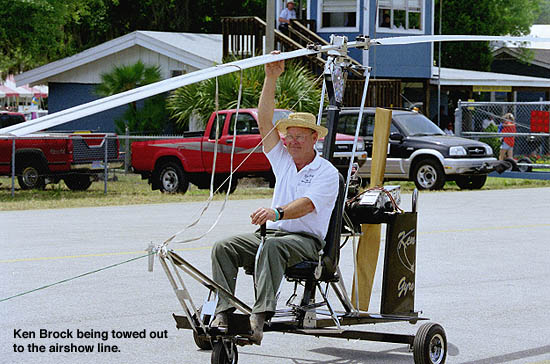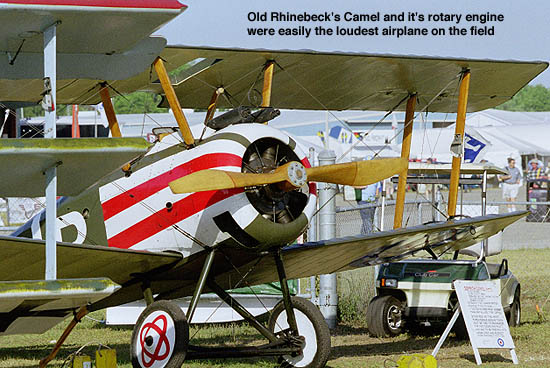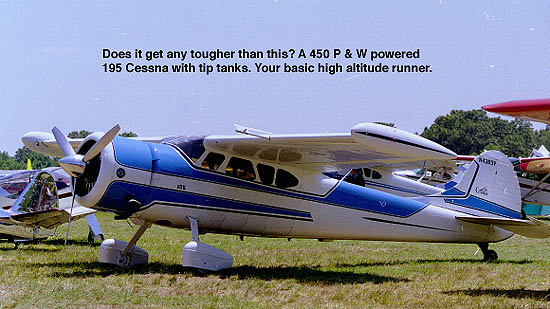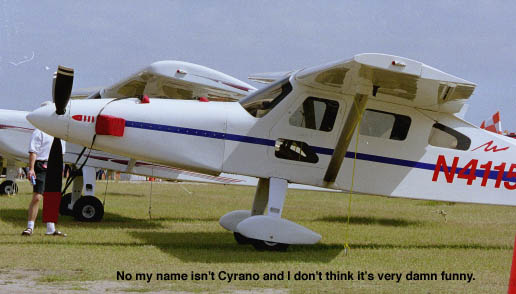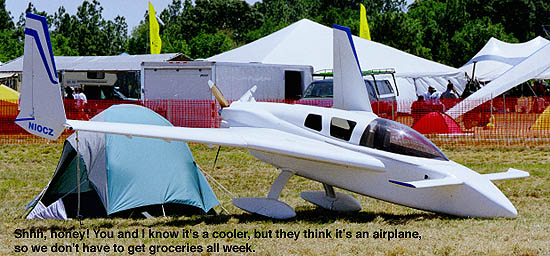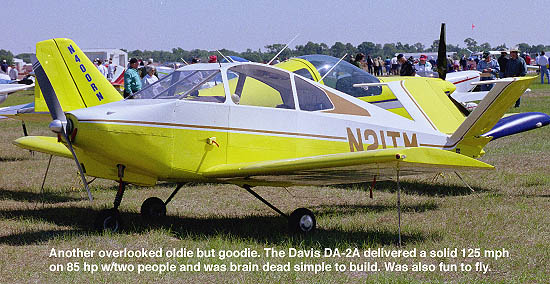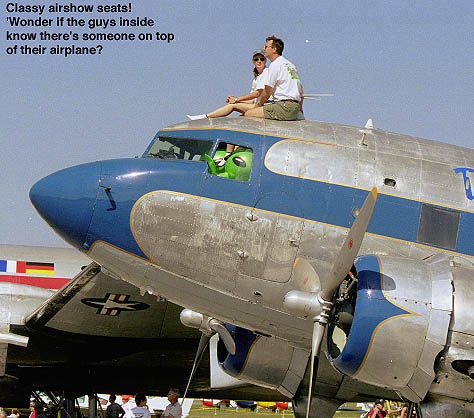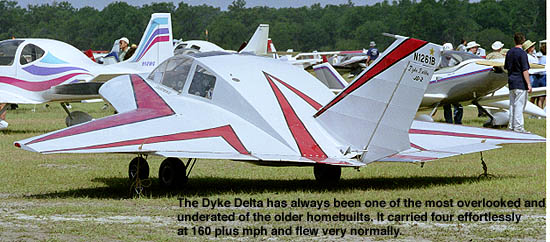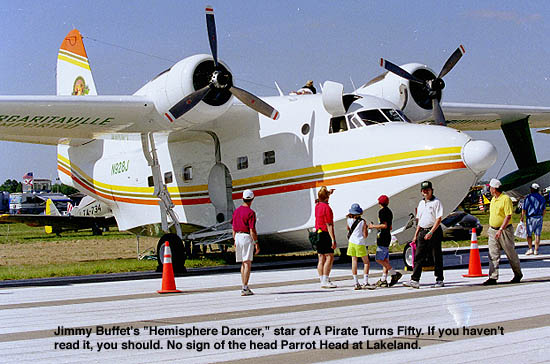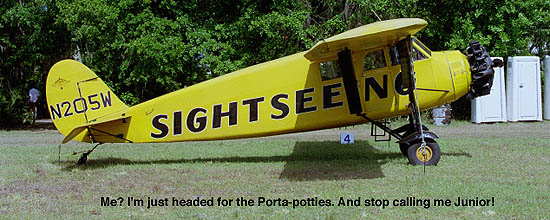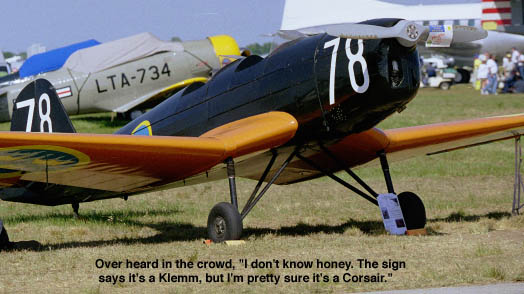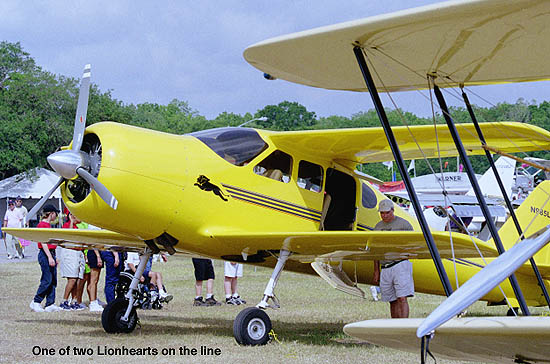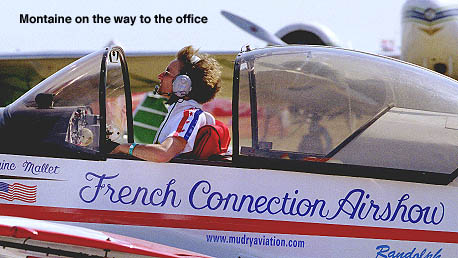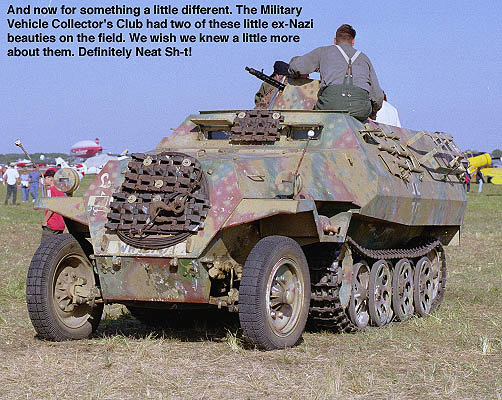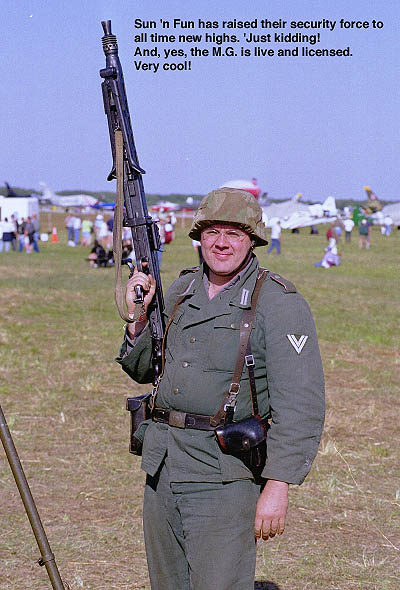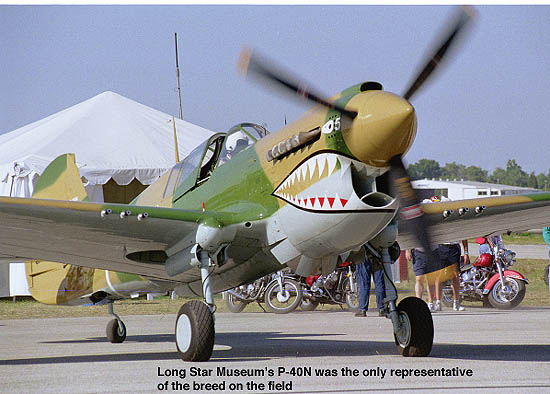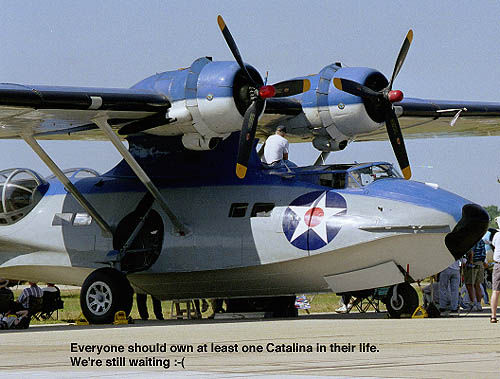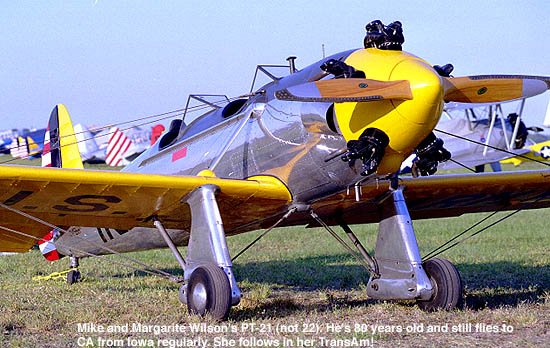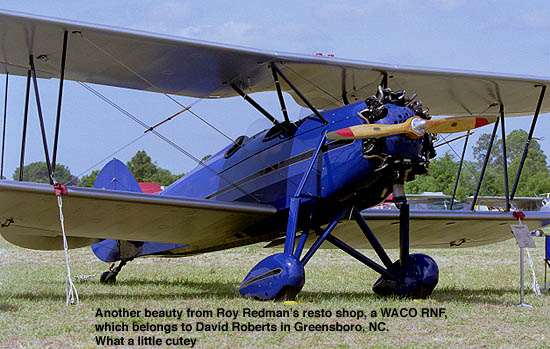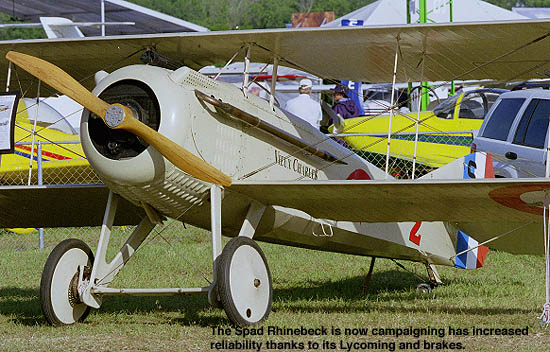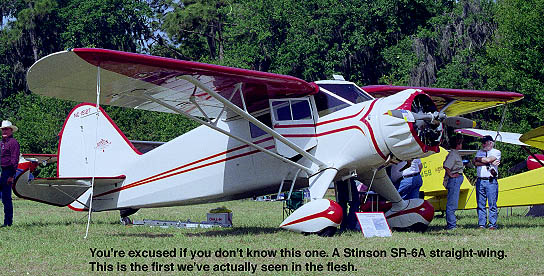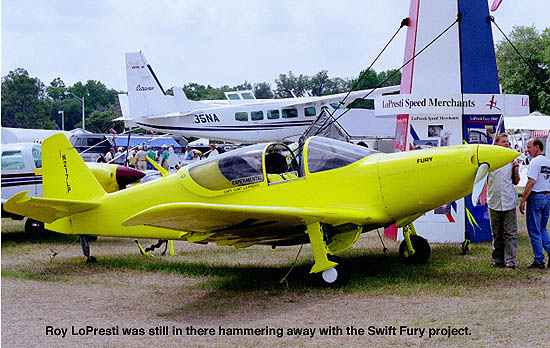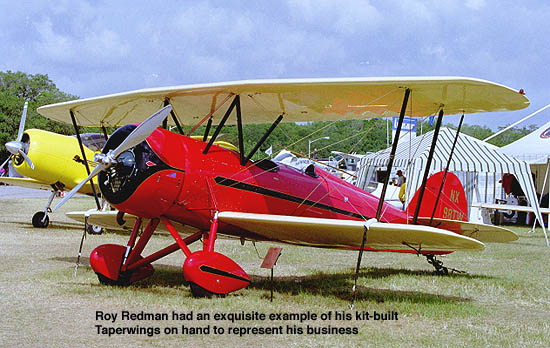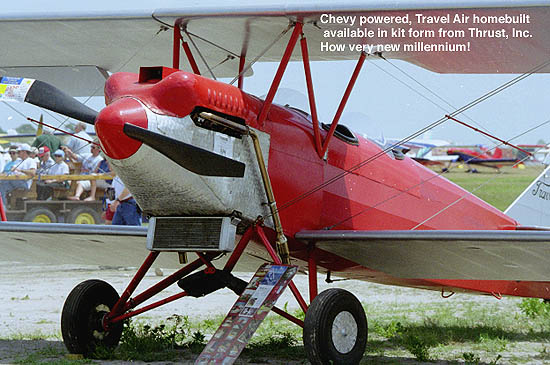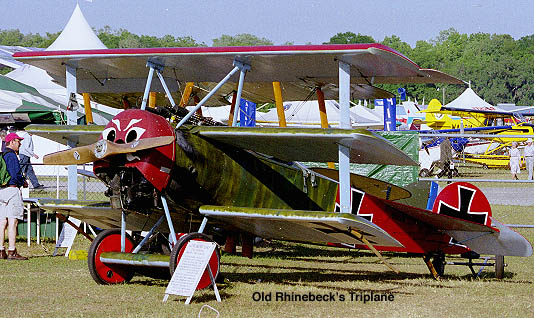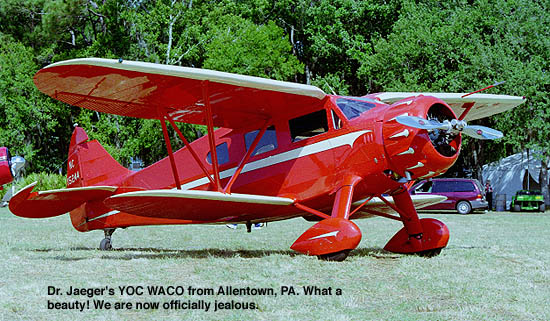 THAT'S ALL FOLKS...UNTIL NEXT YEAR