A PARTY FOR CURTIS
(Note: If you are viewing this and there are no color pictures in it, come back in a week or so, as we're scanning a bunch of Pitts Pix to be included. BD)
This is going to be one of those "you had to be there" stories. So much was happening and there were so many nuances, it's next to impossible to describe the First Annual Curtis Pitts Appreciation Weekend in a logical, chronological manner.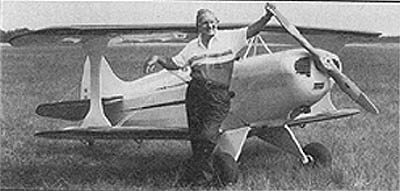 Curtis with the replica of Pitts No. 1, September 1990. The replica was built in five months and 18 days by The Friends of Curtis Pitts and is now on display in the EAA Museum in Oshkosh

---
That last weekend in September, 1990 is going to be long remembered by a lot of acronuts who think all airplanes should have two wings and wires. For the ones who managed to work their way through the unbelievable klag that plugged up the whole southeast part of the United States, they are going to remember it as a warm, emotional, fun-filled two days in St. Augustine, Florida, honoring Curtis Pitts and the machines he has designed. For those who couldn't make it through the weather, it will be remembered as a frustrating weekend spent in some small airport in south Georgia trying unsuccessfully to find a hole through the dark stuff.
There was a dual theme at the event: One was to honor the man, the other was to enjoy his machine. The event was based upon the 75th birthday of Curtis Pitts (which actually is 9 December) and the 45th anniversary of the first Pitts Special, a replica of which was built and flown the first day of the event. More on the replica elsewhere in this issue.
The event was put together by Jim Moser who honchos Aero Sport, the sport aviation-based FBO based at St. Augustine, and Carl Pascarell who, among other things, bases his spin training and aerobatics school at the airport. Rounding out the trio of disorganized organizers was Budd Davisson, Pitts owner and superbuff.
Basing a Fly-In on such a special interest airplane and on a single man could
easily be seen by some as having such narrow interest that only those in the local area would be willing to venture forth and spend the weekend. The registration cards showed just the opposite. Cliff Antcliff, for instance, flew his Pitts S-2B all the way from Spokane, Washington. And there was an airline captain stationed in the Philippines who flew into the United States to attend. Somehow this denotes a much higher level of interest and enthusiasm than folks on the outside could see in such an endeavor.
Perhaps the fanatic-of-the-year award should go to a Canadian duo who drove non-stop in 22 hours from Ontario to be present.
Even though the weather looked ominous in all directions, for the two days prior to the event the distant throaty exhaust roar so identifiable as a Pitts Special could be heard as some hardy soul carved a tiny hole through the haze and rain to make his way into the airport. More often than not they arrived in twos and threes, generally one airplane having good radios and navigational gear while the wingman depended on the lead to find the airport.
Eventually there was nearly every variation of Pitts Special imaginable parked on the ramp, ranging from modified big engine S-2Bs to diminutive little flat wing S-1Cs. It's interesting to think what the total number of aircraft might have been had the weather been better since phone calls throughout the weekend from frustrated pilots showed there may have been as many as 50 to 100 more airplanes out there doing their best to arrive. As it happens, had they made it, they could have enjoyed totally flyable weather for the entire weekend since not once did it rain or the ceiling close down.
The aircraft were parked on the apron in front of Aero Sport's terminal; the center of the crowd being the 1945 Pitts replica and the original Pitts Little Monster, a Goodyear (Formula I) racer Pitts built in 1949 and raced through 1952.
Curtis got as much kick out of seeing the racer as he did the rest of the airplanes. He hadn't seen it in any form since the 1960s, and certainly hadn't seen it in his signature colors or with its 1950 paint scheme since the last Goodyear races.
The airplane is unique among its peers with a tapered aluminum wing bolted to a fabric and steel tube fuselage. A Continental C-90 updated to 0-200A specs sits in front of the fire wall. The airplane still sported its original Pitts hammered aluminum cowling and wheel pants and was a magnet for anyone who walked onto the ramp.
The airplane went through several hands during the 1950s before being purchased by Jim Dulin of Palls Valley, Oklahoma, who flew the racer through the entire 1960s and 1970s until his untimely death in a motorcycle accident in the early 1980s. The aircraft was purchased by Jim Clevenger who is perhaps better known as the builder of the mighty 450hp 1932 Wedell-Williams 44 replica which debuted at Oshkosh this year. Starting only six weeks before The Pitts Party, Clevenger and his friends in Marion, North Carolina, took the Little Monster totally apart, restoring and repainting each piece as the airplane went back together. Jim stands over six feet three inches and isn't rail-skinny so he can barely (as in barely) squeeze himself into the cockpit, therefore it fell to Carl Pascarell to test fly and deliver the airplane to St. Augustine. As is always the case in a rushed project, something was bound to go wrong at the last minute. The engine, having sat dormant for over ten years, manifested a leaking exhaust valve and several all-night efforts by Clevenger and the Marion crew got the engine running smoothly so Pascarell could make the trip to St. Augustine unworried.
Pascarell, a confirmed Cassutt devotee, spoke in glowing terms of the racer since not only did the plane exhibit superior stability on the cross-country, but it had well over two and a half hours worth of fuel making the 180-mile-an-hour machine truly crosscountry capable. He also pointed out he was nearly crippled for three days because of minimal leg room.
The short leg room made it difficult for anyone over 5 ft 8 in to fit into the cockpit, although during the weekend at least four or five different pilots flew the airplane, none of them complaining of the close quarters because it was such a thrill to fly. However, in regards to the Little Monster, the high point came about when Jim Clevenger once again tried to fit into the cockpit and found that even though he looked like a potato squashed into a Mason jar, the canopy could indeed be closed. That being the case, someone spun the prop and Clevenger went out and made his first flight to everybody's great amusement.
During its racing days, the Little Monster had to play second fiddle to the better known killer Goodyear machines like Rivets and the Cosmic Winds, but it still brought home more than its share of prize money and was turning lap speeds in the 200 mph region quite regularly.
The airplane was originally campaigned by Phil Quigley and later by Bill Brenand. Quigley was lost delivering a Citabria to South America and it is fitting that the left side of Little Monster's vertical tail states, "In memory of Phil Quigley and Jim Dulin" while on the right it reads, "In honor of Curtis Pitts."
The littler racer sat in among the bevy of biplanes and all the owners seemed to get
a smile on their faces watching the hummer come and go since they knew it represented an unusual piece of Pitts Special history.
The variation of Pitts Specials on the ramp was wide, but the emphasis seemed on S-2As and Bs which had rolled out of the factory doors in Afton, Wyoming. However, there were no less than three S-2Es, a relatively rare variant in that it is essentially an S-2A homebuilt which is the result of a limited number of kits put out by the factory in the late 1970s. Most assumed there were no more than a half dozen of these airplanes in existence but with three of them on the ramp obviously all were wrong. A later phone call to the factory verified they had indeed sold something over 24 S-2E kits but the number of them flying is now unknown. Interestingly, most of the S-2Es stick with the fixed pitch, 180 horsepower package which was on the origi-nal prototype S-2, rather than the fuel injected 200 horse constant speed version of the S-2A since the supposedly lower horse-power engine is much lighter, resulting in a weight savings approaching 200 pounds. This gives the S-2E owners a real edge in performance over the S-2As, even though they don't have the horsepower.
When a few of the pilots arrived, they asked about the agenda and the standard answer was, "We're going to kick back and have fun." The Pitts Party was to be just that, a weekend of biplane fun. There were no rules, no contests, few restrictions and everyone was encouraged to fly when they felt like it. And they did. For the entire weekend, the emphasis was on talking airplanes in the key of Pitts and flying same. At any given time there were a number of airplanes in the air, usually in pairs or trios as they went up to chase each other around. Folks were laying around under airplanes, sitting in the refreshment tent, lounging on Aero Spot's famed front deck or just ambling around peeking at this and that. No pressure, no public, no nonsense. And sitting in the middle of it all was Curtis Pitts, who appeared to be having as much fun as any on the airport.
Lots of attention was being paid to the differences between the various airplanes. The composite three-blade prop on one got close scrutiny, but certainly no more than the beautiful pressure cowling job on one of the S-2Es. Pitts lore abounded and the factory production numbers were bandied about as everyone tried to guess how many of each model were still in the country.
The homebuilt single-place machines were all thumb-prints of their builders, since every one was different. They represented totally individualistic interpretations of the Pitts theme and the variations were wider than could be imagined. It was also interesting to note that there were very few traditional Tennessee Red Pitts on the airport. For decades if it was a Pitts, it was clothed in a coat of Tennessee Red dope. Now, however, that is as much an excep-tion as the rule.
When Moser and the boys put the event together, they decided to have a banquet on Saturday night with Curtis as the guest of honor. In the planning stages, it was anybody's guess as to how many people would show up. Around 150 seemed to be an op-timistic number and that's what they told the catering hall. As the people and airplanes began to come in, they upped that number to 200. They were an hour into the banquet and still trying to find seats for peo-ple, even though seating for 280 had been provided. The turnout was much larger than anyone could have anticipated, which was largely attributed to everyone's feelings about the guest of honor.
Besides having a heavy population of Pitts children, grandchildren and great-grandchildren, every major name in Pitts aerobatics and air shows was in the room at one time. Many of them got up to speak in honor of Curtis, one of them being Betty Skelton Frankman, whose airplane Little Stinker was the second Pitts Special built. Because of Betty's aerobatic exploits and high visibility during the 195Os, she and her airplane were single-handedly responsible for much of the sport and aerobatic developments of the 1960s. In her speech she not only heaped still more praise upon Curtis, but told a story about her first acquaintance with the airplane.
The first time Betty saw the Pitts Special she was in the pattern preparing to land for a Florida airshow. From her vantage' point she could see a group of people gathered around what was obviously an in credibly small little airplane. Immediately upon landing she hustled over and was totally taken by the plane's beautiful lines and "just right" size.
Approaching the three men standing around the airplane, one of whom was undoubtedly Curtis Pitts and the other Phil Quigley, she asked if she might sit in the cockpit. Being of the old school, they recognized her as being a woman and therefore not worthy of sitting in their airplane and she was told summarily "No." Her tiny feet stomped away, determined to own that airplane or one similar. Shortly thereafter the airplane did come up for sale and she just as quickly flew from her home in Tampa to buy it and take delivery.
The press and all her friends were waiting back at Tampa for her return, which would also be her first landing. Today she can laugh about the event but on that first landing she ground looped the airplane in front of God, the press, her friends, and the entire world. She probably wasn't quite as ready to laugh about it then.
Certainly one of the more emotional parts of the evening was paying homage to Jim Holland, one of aerobatics' and air-shows' better kept secrets. One of Curtis' old friends and long involved with Pitts Specials in every possible way, Jim got together with Jim Moser to sing a song he had composed while ferrying an S-2A back from the factory in Afton to Florida. Although a major portion of its lyrics can't be present-ed in printed form without being sued, it nonetheless told the story of how much "fun" it can be to fly across country in a Pitts Special.
As Holland walked to the microphone, the entire room spontaneously got to its feet and gave him a standing ovation, since everyone felt he had never received the credit due.
It's interesting to think that between Jim Holland and Bill Thomas, longtime proprietor of the "Fly For Fun" aero school and aerobatic competitor, who was also in the room, they had an excess of 10,000 hours of Pitts Special time. That must be some sort of record!
And speaking of records: The room rose to its feet again to honor Willie Mae Pitts, better known as "Ma" to thousands of acronuts, and recognized by Curtis as one of the reasons he got anything done at all. Not only was she instrumental in doing some of the work on his original airplanes, but she stood in his corner for over 50 years as one of his strongest supporters. As everyone in aerobatics or sport aviation knows, it's Ma and Pa Pitts as a team, not just Pa. If he'd been married to someone else, the history of aerobatics might have been entirely different.
Everyone loved to tell stories on Curtis, but no one liked telling stories on Curtis more than Curtis himself. When he came up to the microphone not only did he thank his friends and family, but he proceeded to tell how he bounced the original Pitts Special, which had a rigid gear, hard enough on a grass field that it yanked both axles and wheels entirely off the airplane. Curtis said he was real proud of himself for recovering from the bounce and bringing it down for a gentle landing. Unfortunately, he didn't know the naked landing gear Vs were all he had under him. Naturally, the second it touched, he was instantly deposited on his head sliding backward in the sand.
The room was full of people who walked to a different drum since, to a person, regardless of what else they did or however they saw aviation, they knew the true definition of three-dimensional flight in all its colors. They all did aerobatics or were part of the world of aerobatics. Sport aviation in general is a fairly small slice of the aviation pie and aerobatics is the tiniest sliver of that small slice. But those who revel in the ability to thread a needle with an airplane in any attitude consider that ability to be an emotional, sometimes near-religious gift. And they all recognize the role Curtis Pitts has played in that arena.
Curtis didn't invent aerobatics. He didn't invent biplanes. He didn't invent the concept of small airplanes and big engines. He did, however, re-invent all of those factors and mold them into the image we now know as modern aerobatics. He and his little airplanes completely rewrote the aerobatic history books and, at the same time, opened the world of serious aerobatics and pure high performance fun to the masses. It was entirely through him that an individual with dedication and a yearning for the third-dimension could take a roll of drawings and convert them into a rag and tube ball of lightning that would never fail to take their breath away. Never.
The people in that room had gathered to thank him for that experience. They had come together to thank him for giving them the tools which most had used to build a lifestyle of involvement and excitement. They also came to thank him for being the wonderfully kind, selfless character that he is and, by simply making himself available, enriching so many lives.
There is a common sticker seen on flight bags and airplanes that says, "A Pitts is Something Special." As everyone knew that weekend, that didn't refer just to the airplane. It applies to the man as well.